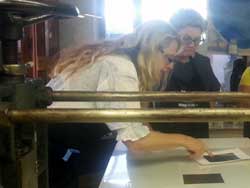 During September 2015, experienced artist and printmaking tutor, Susan Baran, held a very successful printmaking workshop in the beautiful town of Arenys de Munt.
The Printmaking Studio
Art Print Residence
C/Ramon Llull 1
08358 Arenys de Munt
Barcelona, Spain
Artists may apply directly to the studio to do residencies. See website www.artprintresidence.com for more information.
The studio at Art Print Residence is fully equipped with loads of natural light from 12 linear metres of south facing windows. There are three etching presses and the studio is set up for copper plate etching with the safer mordant of ferric chloride. A vacuum exposure unit provides the opportunity to use photopolymer plate (solarplate). There is an outside area including a garden that can be used when the weather is suitable. The studio has views of the mountains in one direction and views of the ocean in the other.
The Location & Sights
Arenys de Munt is an easy 50 minute train ride (local commuter trains run regularly) or a 30 minute road trip from Barcelona. The region has beautiful beaches, is good for hiking and rich with local culture. The restaurants, cafes and shops of Arenys de Munt and the beach of Arenys de Mar are all walking distance from the studio. September in Spain is much milder in temperatures and perfect for working or exploring the city of Barcelona and the surrounding area of Girona.
The Tutor
Susan Baran is a Sydney-based Australian artist/printmaker who trained at East Sydney Technical College, Sydney, NSW (now the National Art School)and the City Art Institute (now College of Fine Arts) majoring in printmaking. With over 25 years teaching experience, Susan has taught printmaking at the National Art School, the Warringah Printmakers Studio and the Pine Street Creative Art Centre in Sydney. She has been a tutor for a number of workshops including printmaking courses at Baldessin Press (VICTORIA) Newcastle Printmakers (NSW), Moving Creatures Studio (TASMANIA) Primrose Paper Arts (SYDNEY), Art Vault (MILDURA) & Hazelhurst Gallery (NSW).
Susan has had many solo & group exhibitions in Australia and overseas. Her work is held in the collections of the National Gallery of Australia, the Art Gallery of NSW, Artbank, & various regional galleries. She has completed artist residencies at the Art Vault, Mildura & at the Australian Print Workshop in Melbourne. Focusing on safer printmaking practices, her expertise is with photopolymer plates (solarplate) & etching, .